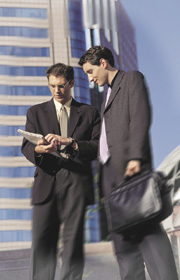 Tron Systems develops dynamic business web and mobile applications to allow businesses to perform effectively.  With plenty of experience of doing this since 1992, we are ideally placed to help you create custom applications tailored to the demands of your particular business. We can help at every stage of the development process, from initial conception of an idea through to ongoing support.
Solutions range from simple document repositories taking a couple of days to develop through to complex business-specific workflow systems with hundreds of users, dozens of business roles, integration with back-end systems in Oracle, DB2 or SAP, and extranet interfaces to customers and suppliers secured via SSL.
Our consultants are not tied to any particular solution provider or technology and can offer impartial advice.  We make use of technologies from IBM, Microsoft and Open Source projects.  From IBM we use Notes/Domino and XPages.  From Microsoft, we develop ASP.NET applications for Internet Information Server. In the Open Source arena, we are involved in Open Source technologies such as PHP including application frameworks, Apache, MySQL, Tomcat and Drupal.
We aim to develop systems using the most appropriate technologies for the job.  That will depend partly on your existing infrastructure, so we will talk to you to determine what fits best with your business.  When creating applications we pay particular attention to accessibility, assisting those with disabilities and making our applications intuitive and easy-to-use for everyone.
Our case studies provide more detailed information on examples of solutions we have created for our customers. If you're unsure of how we could help you, take inspiration from our list of potential business improvements.
Solutions are only successful when applied to solve real business issues. In our role as consultants, we can help you determine the areas where we could help your business, and advise you on an appropriate course of action.